The making of Fern Lake Township . . .
---


I picked building two to start on the trim work. This will house a pet shop downstairs and the yarn/fabric shop upstairs. I'm using index card weight card stock for the trim. I chose a chocolate brown and blue for this building. Starting with the cutout opening of the windows that show from inside and out, I'm using the brown cardstock. I cut a bunch of strips about one inch wide and the width and height of each window opening. I used my scrapbooking board to score all the pieces so they have a nice even 1/4" section down the middle.


---

I fold the pieces on the scored lines, fit them into the window openings, and glue in place.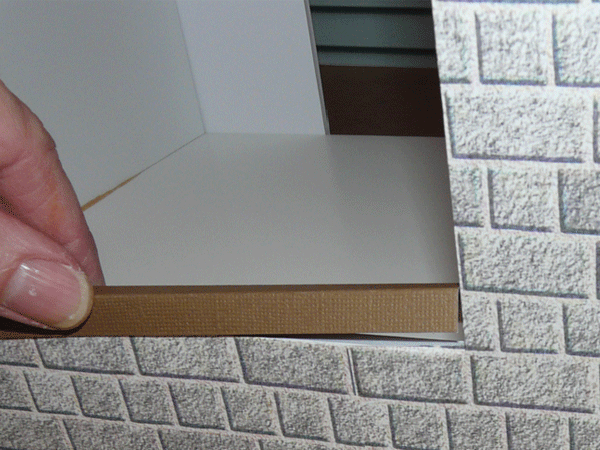 ---

The corners at each window aren't covered but that doesn't matter at this point because this is just the trim for the narrow strip in the middle.


---

Next, I cut 1/2" strips of the blue to be the trim on the outside of the building. Two side pieces go on first, then the top and bottom pieces. See how much better the window opening looks when you can't see the raw foamcore anymore?


---

All the doors and windows on the building have their outer trim in place. Can't do the inner trim til the wallpapering is done.


---

Next, the front door to the pet shop. I fit the piece of foamcore into the opening, and shaved a little off so it moves freely. Then I cut out the window area, applied glue to one side of the door and laid it on a piece of the brown trim cardstock.


---

The window opening in the door is cut out of the cardstock too. I didn't do the inside edges of the opening the same as the windows on the building because the extra layers of cardstock on the narrow strips of the door get too thick and like to peel up.


---

Instead, I cut strips of cardstock 3/16" wide run the handy glue stick along one side and stick them onto the edges of the opening.


---

I save various packages that have good flat areas of clear plastic for windows. This one is a great find, it has lots of flat space for several windows.


---

A piece of the clear plastic is cut about half an inch larger than the door opening, and carefully glued in place, trying not to get any glue on the rest of the plastic. This side of the door will get trim to match the inside woodwork, once I decided what that will be. Next week I should be able to finish the outside of this building.


---