Frank 'n Steins Pub on the Corner of Third Street and Main

This is the only spot in the whole town where the thing is finished inside and out, and furnished. I thought some of you might enjoy a quick tour of it from start to finish. It starts with the empty end unit, below the kitchen of the upper level apartment. The floors are in, but that's all. (Except for some old posters and signs on the front window.)

---
Paneling and trim is added next.

The new owners wanted a nice rustic look to the place, like it's been there forever, so they covered the walls in aged pine paneling.

I have to mention here that all the cute ideas for this entire little pub came from my husband, whose name just happens to be Frank. He kept commenting on what a little corner pub in a fishing town should have in it. So everything from the paneled walls to the trophy fish and bulletin board, was suggested by him. Maybe I should listen to him more often.......hahahahahahahaha
---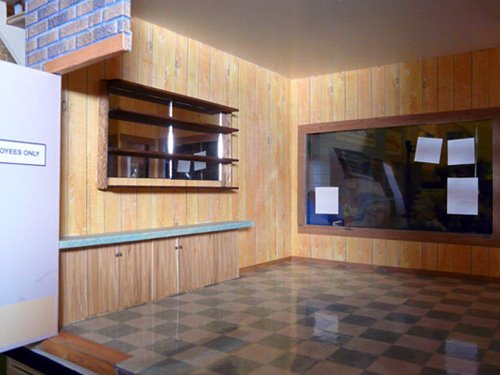 Behind the bar

The mirror behind the bar went up next, followed by the shelving in front of it and storage cabinets below. A new back door was installed at this time as well.


---
The bar comes next

A custom built bar with comfort rail comes next, along with a few little table and chair sets by the front window. The corner tv is hung and tuned to a fishing show. Tappers are installed and advertising posters start showing up on the walls. The bar is foamcore, as are the little tables and tv. The tappers were made from thick wire, bent and hammered a little flat at one end. They were super glued to more pieces of bent wire. TV show, tapper labels and shop signs were made on the computer and printed.


---
Lots of extra things

Next I made all the bottles to fill the shelves behind the bar. I made the labels on the computer, and all the bottles are clay. I used mostly translucent clay with small amounts of various colors. They were all given several coats of gloss to look like glass. This was a time consuming task, but fun. I also made the bar chairs and would use thicker wood if I had to make more of them. They were a little tricky to keep straight while the glue dried.


---
Gotta have a few of these

Next I made a few fish to mount and hang on the wall. I even hung the lure in the mouth of one of them. These little guys took longer than I thought they would, so I only made three of them. It's a small place, that's enough.


---
Gotta have one of these too

What pub would be complete without a bulletin board full of dopey pictures of its' patrons? So here it is, right next to the dart board. Hope no one misses.


---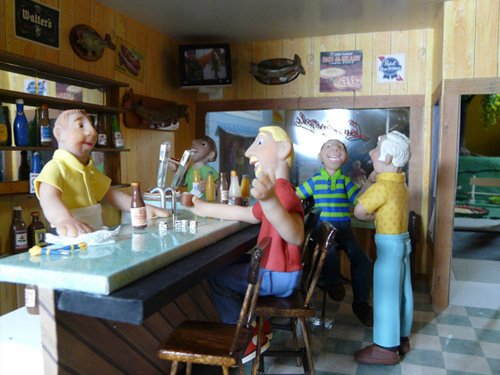 Open for business!

The doors are open and the people start coming! Looks like it's going to be a popular place, especially for the men in town. Karl, behind the bar, is going to be a busy guy. That's Larry Shore, town founder, standing in the blue pants, checking the place out.


---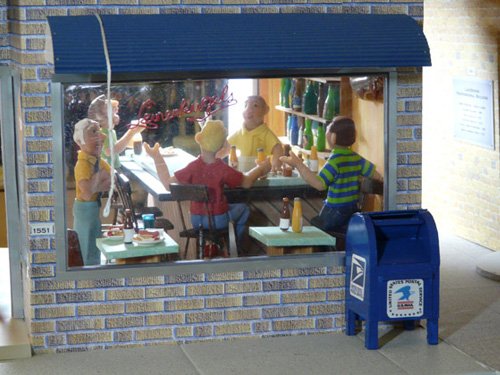 Outside, looking in

Here's an interesting view of the Pub from outside on the street, looking in. I had a lamp shining inside the pub from the back, to take this picture. The red "Leinenkugel" sign in the window was made to look like a neon sign, and was made by bending a piece of red wire.


---


Tulip Square LLC
P.O. Box 163 Brookfield, WI 53008-0163
This site designed and maintained by 13sites.com - a division of Tulip Square LLC