Lillith's green thumb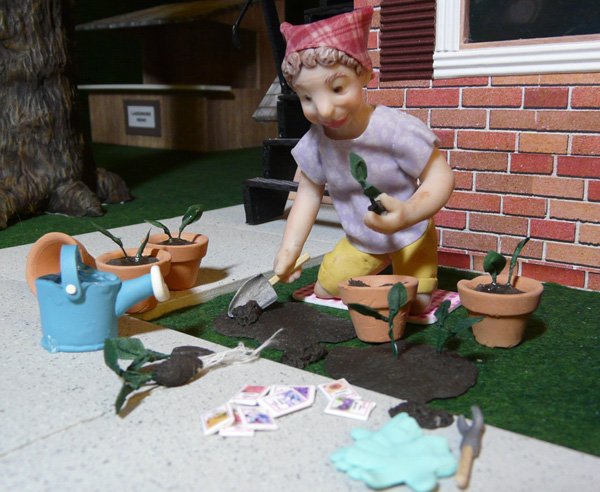 This is Lillith. She loves growing things. As soon as the snow melts in spring she gets busy planting her seeds and seedlings in any little patch of dirt she can find on the street where she lives. The tiny apartment in her duplex will be filled with flowers too, in any vase, pot, or other container she gets her hands on. Lillith doesn't have time for knitting or fancy luncheons, or spending hours browsing through a magazine - unless of course it's a garden magazine. She'd much rather spend her waking hours making things grow. She keeps as many flowers as she has room for, and sells the rest. It's her small way of making the world a prettier place.

A bit about this scene: Lillith is made of polymer clay, using no molds. Her clothing and hair is also clay, individually styled to suit each person I make. The dirt in the pots, her gloves and the watering can are also clay. The little seedlings are florist tape, wire, clay and thread. The little pots were purchased. The tiny seed packets are paper, and you can shake them to hear the seeds inside! Watering can has craft water overflowing from it.



---
Tulip Square LLC, P.O. Box 163 Brookfield, WI 53008-0163
©2014 Tulip Square LLC
This site designed and maintained by 13sites.com - a division of Tulip Square LLC