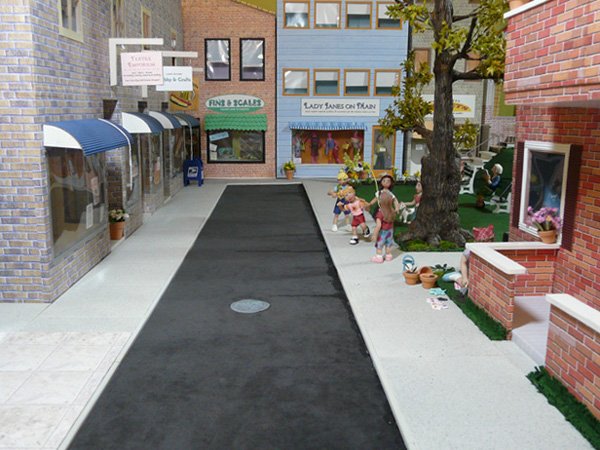 This is a view looking down Main Street, where it intersects with Third Street. Little by little it's getting filled up with all the things that belong on a street in a small town. The entire scene is made in 1:12 scale and covers three six foot folding tables (and what used to be our livingroom). All the buildings are made of foamcore, with open backs for easy access to the rooms inside. Of course, this also means the sides of the tables can't be up against a wall, or you can't get into the buildings.

I made the first of the buildings about seven years ago. They've been hauled upstairs, downstairs, stuck in the basement and hauled back out again, with minimal damage. Usually only when I knock one into the wall or something similar. I still have the first of the houses I made, it's still in the basement. It's probably my favorite of all the buildings, but it's so big it didn't fit anywhere in my little town. One of these days I'll be getting it out of the basement, dusting it off, and finding a place for it. They are all holding up surprisingly well, since I wasn't sure how durable they'd be, being made of foamcore, but once it's covered and glued into rooms and all, it's surprisingly sturdy. Though if I were ever to make any more buildings or houses, I wouldn't use glue sticks to attach the wallpapers. I'd use thinned craft glue instead.

I made virtually everything in the entire scene, using all sorts of materials. The only exception I can think of are the little terra cotta flower pots. They were given to me, so I used them. The hardest thing to make was the old tree, which was also made from polymer clay - something I wouldn't recommend. It stands over three feet tall, so I had to stick the end in the oven to bake half of it (with the door open!), then turn the tree around and bake the other end. The clay never really baked properly, so every time I move the tree, parts of it fall off. The leaves were cut off artificial plants and glued to the branches.

To have a closer look at different areas and buildings, click on a picture on the left.