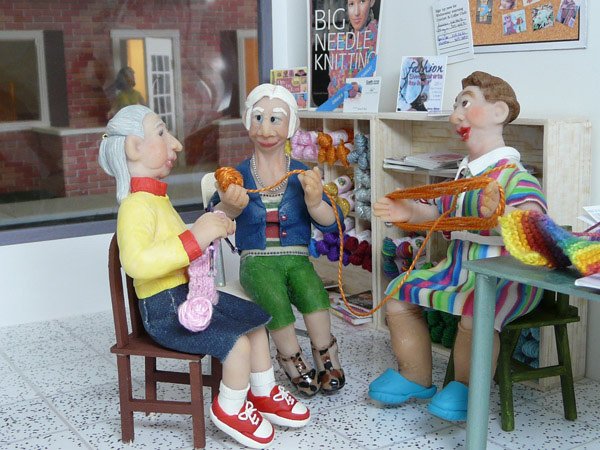 Every Thursday evening, without fail, the ladies of the Thursday night knitters guild gather in the back corner of the Textile Emporium on Third street. Phyllis doesn't care what she's making as long as she's making something. Agnes, considering herself something of a fashion diva, prefers more unusual creations. And June just loves yarn. She doesn't knit as much as she crochets as she says she can talk more while crocheting than she can while knitting. Because they mostly get together to talk about anything and everything happening on their section of Main Street.

A bit about this scene: Ladies are made of clay, using no molds, and are not posable. Their clothing is made using my own technique for realistic, fabric-like clothes. Eyeglasses are made from wire and are removable. Chairs and table are made from balsa and basswood, and painted. The two little knitted projects were done on tapestry needles, using embroidery thread. The little yarn skeins were made with various threads and fine yarns, with labels attached to each. The majority of the books have covers and backs, but no real pages.

Available items or patterns from the ladies for sale are on the left. At this moment they have nothing to sell, but will post some very soon, so check back!